Valley Brewing Co.
>Branding >Packaging >Illustration
For the Valley.
If you've ever visited the Yakima Valley, you know these key characteristics about it: the view of the mountains, the beauty of the valley, and of course, the hops. When developing the visual identity for Valley Brewing Co, I focused on those defining characteristics to develop an identity that would represent the Yakima Valley as a whole.
It all started with a sketch: an ice-peak mountain superimposed on a hop. From there, the logo was refined again and again until the final identity was created.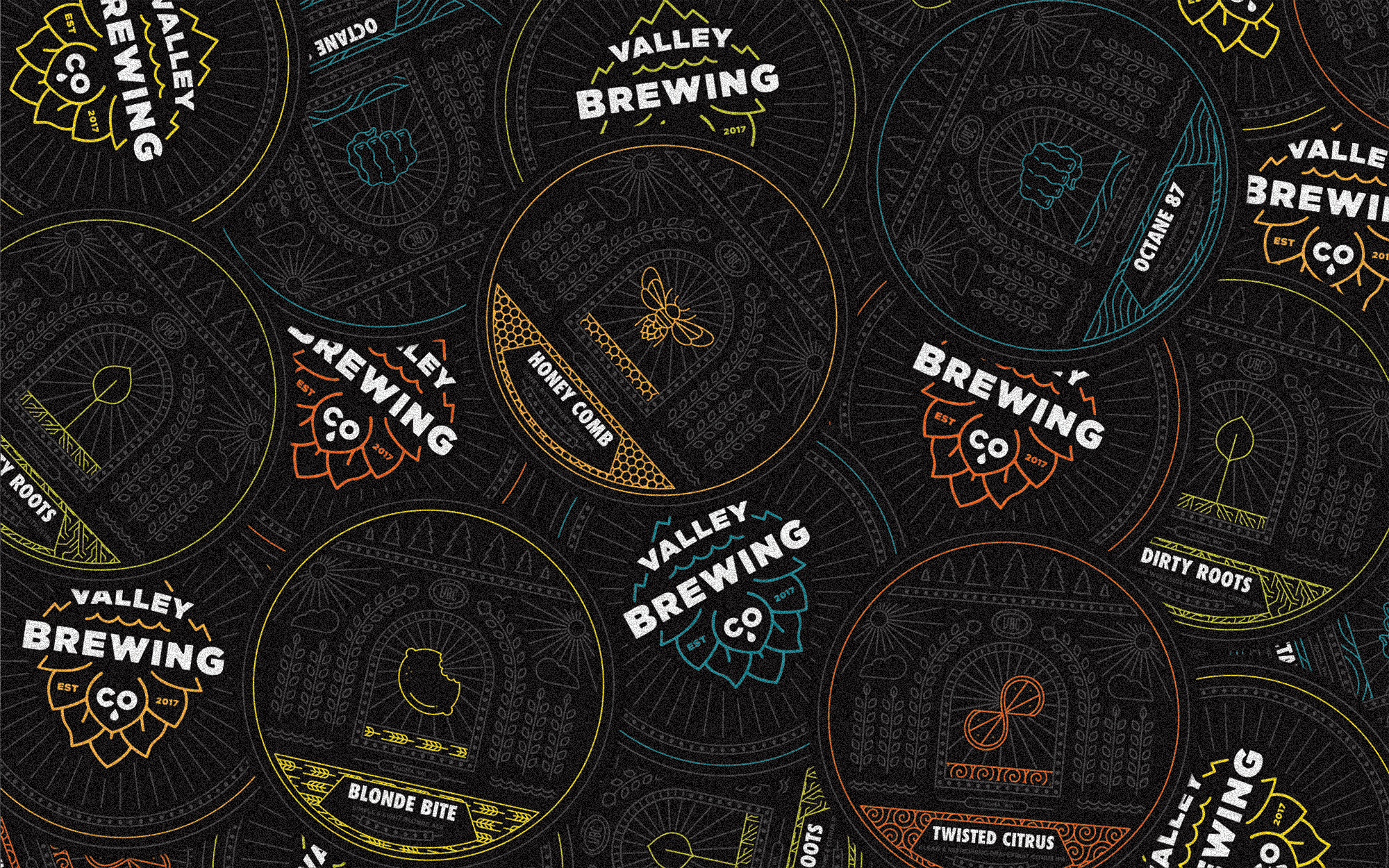 Location, location, location.
From the main road, Valley Brewing Co. looks deceptively small; and at first, it was. Before the owners completely transformed this building, it was actually an old taxidermy shop. But after gutting and rebuilding most of the structure, this ever-expanding business now hosts the brew rooms, a taproom, and a growing out-door seating area, with even more coming soon.Designing the outdoor signage and wayfinding for VBC was critical for newcomers to find the building, and to help distinguish it from surrounding businesses.
The interior is a mix of modern and industrial design, and helps illustrate the personality of VBC. From the subway tiles on the walls, to the gas-pipe shelving, to the handmade tables, everything inside of Valley feels like it was stitched together with purpose. Even though there is a blend of styles within the building, they all fit together cohesively; and I see that as the true beauty of Valley Brewing Co. and something I've elaborated on within the branding.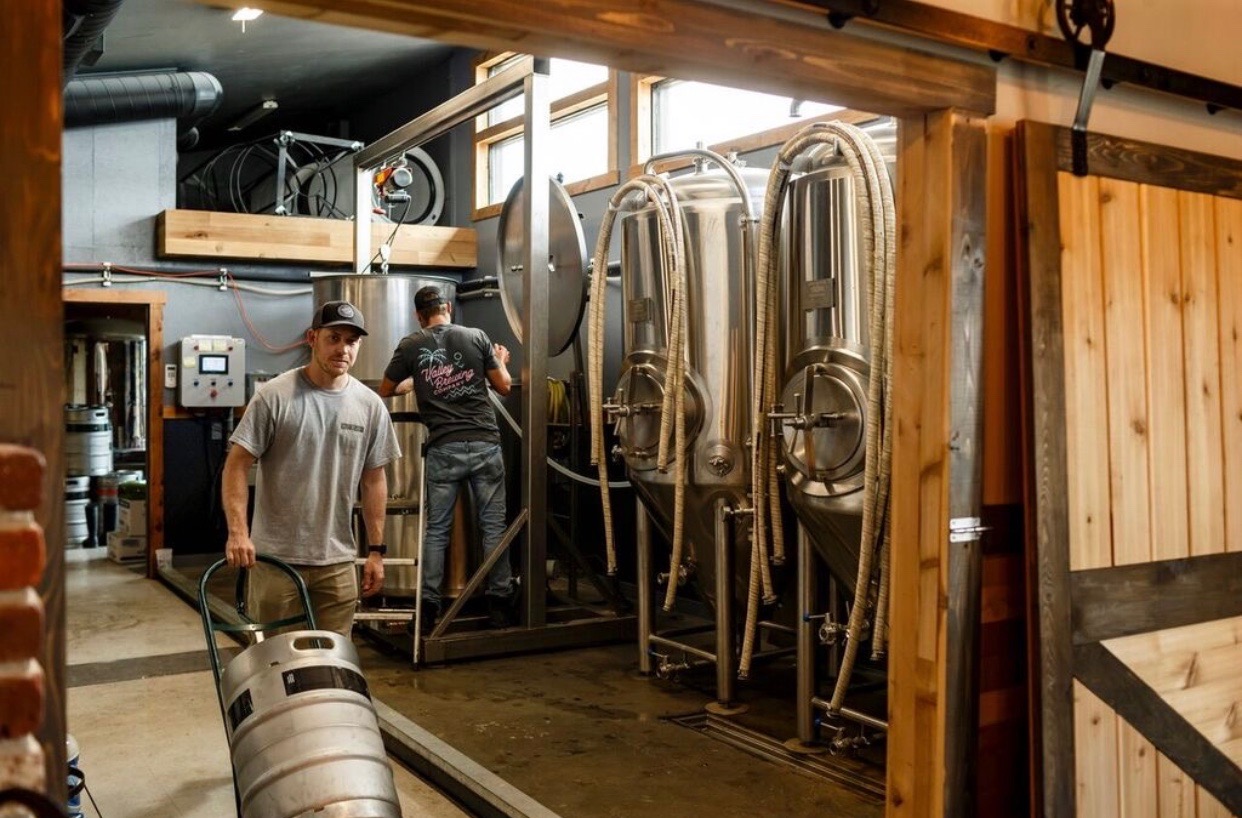 A keepsake.
Enjoying a beer in the taproom is an experience in itself, but it doesn't have to end there. With constantly rotating merch, Crowlers canned on site, limited release cans, and recipes old and new available in a growler, there's always a chance to take part of VBC home with you!

There's been no shortage of merchandise designed for Valley, and just like the beer, there's something for everybody. There are some shirts, sweatshirts, and hats available year-round, but most of the merch is released in a limited stock each season.
Raise a glass.
Beer being a big deal in the Pacific Northwest is an understatement. This could be because about 98% of the hops in the United States are grown in the PNW, and Yakima Valley alone accounts for almost 74% of the domestic industry. Because of this, there are breweries small and large scattered throughout Washington. So, how do you stand out in a saturated market? Valley Brewing Co. exceeds at this by appealing to all crowds of beer drinkers. They are successful in this in a number of ways, one being their juxtaposition of modern designs with an old, rustic aesthetic. Another being their mix of consistent, classic brews along with some more creative and experimental releases. Valley Brewing Co. truly has a beer for everybody.
Working with such a versatile brewery presents the opportunity to create all different kinds of can designs. I started by creating the Crowler design that stays consistent with the brand guide. The limited release cans allow me to go beyond the brand guide and experiment creatively, while still staying true to the brand.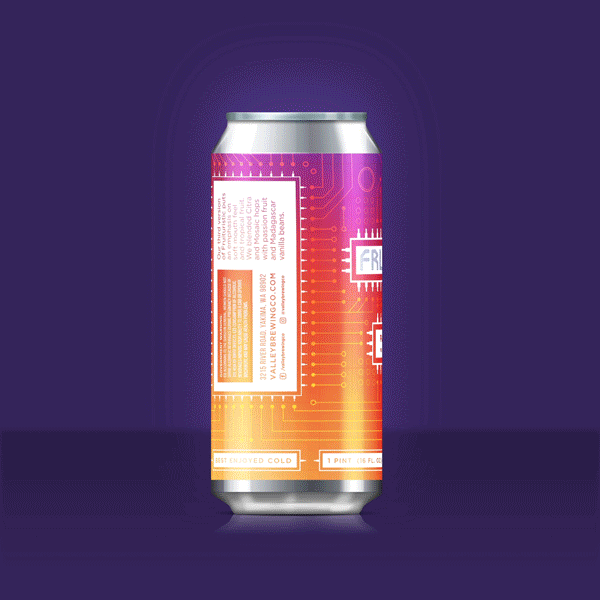 SERVICES
Identity System
Logos, Illustrations, Icons
Custom Typography
Packaging System
Signage & Wayfinding
Brand Merchandise & Apparel
Art Direction


PHOTOGRAPHY
Yakima Valley Tourism
Valley Brewing Co.